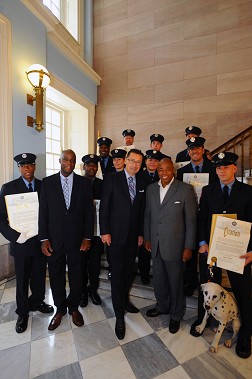 Photo: FDNY
FDNY firefighters, paramedics and EMTs who s
aved three children from a fire on July 29
were honored as Heroes of the Month by Brooklyn Borough President Eric Adams on Wednesday.
From FDNY:
"From time to time we need to be reminded of good news and the good people who ensure the safety of this city," Borough President Adams said during the ceremony at Brooklyn Borough Hall, noting this was the inaugural Hero of the Month ceremony.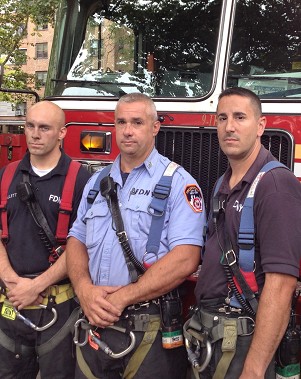 Firefighters from Ladder 107, (L to R) FF Justin Tallett, Lt. Christopher Bedard and FF Frank Blackstone. Photo: FDNY
The members honored included Firefighters Frank Blackstone, Michael Pfaff and Justin Tallett from Ladder 107, Firefighter Christopher Savino from Engine 225, Firefighter William Seiter from Battalion 39, EMTs Kenneth Barriteau and Ewelina Zielinska from Station 39, Paramedics Diana Reyes and Meleki O'Neal from Station 39 and EMT Richard Lewis from Station 58.
Go to McBrooklyn's HOME PAGE
.